Ask about our activities and clubs! We have Out to Lunch Groups, Weekly Shopping Trips, Joy Rides, and many other daily activities. Feel free to call and join us for lunch or maybe even a cooking class with our Taste of Asbury! Our activities and clubs are open to the public so feel free to join us!
Be sure to take advantages of the many amenities our facility offers, too! Move your body in the Fitness & Exercise Room, find a book or use the computer at our in-house Library, or enjoy a care free afternoon of relaxation and pampering in our "Asbury salon." The operator is a licensed stylist with over 20 years of experience. Here you can relax with friends while being pampered.
Life Enrichment Programs
Our goal is to provide balanced creative leisure, and recreational programs to meet residents' physical, social, emotional, and cognitive needs. Some of these activities may be on their own or with other neighbors. Walking, euchre games, painting/crafts in our art room, exercise in our Wellness Center, and gardening in our container gardens are some of the many opportunities.
The community also sponsors special community events and entertainment. These are published on monthly calendars that each Resident receives as well as on our Bulletin Boards in the Common Areas. They are also published in The Trumpeter Newsletter that is distributed monthly to residents. Information is also broadcast on Community Channel and on a Monitor located by the Main Dining Room Entrance.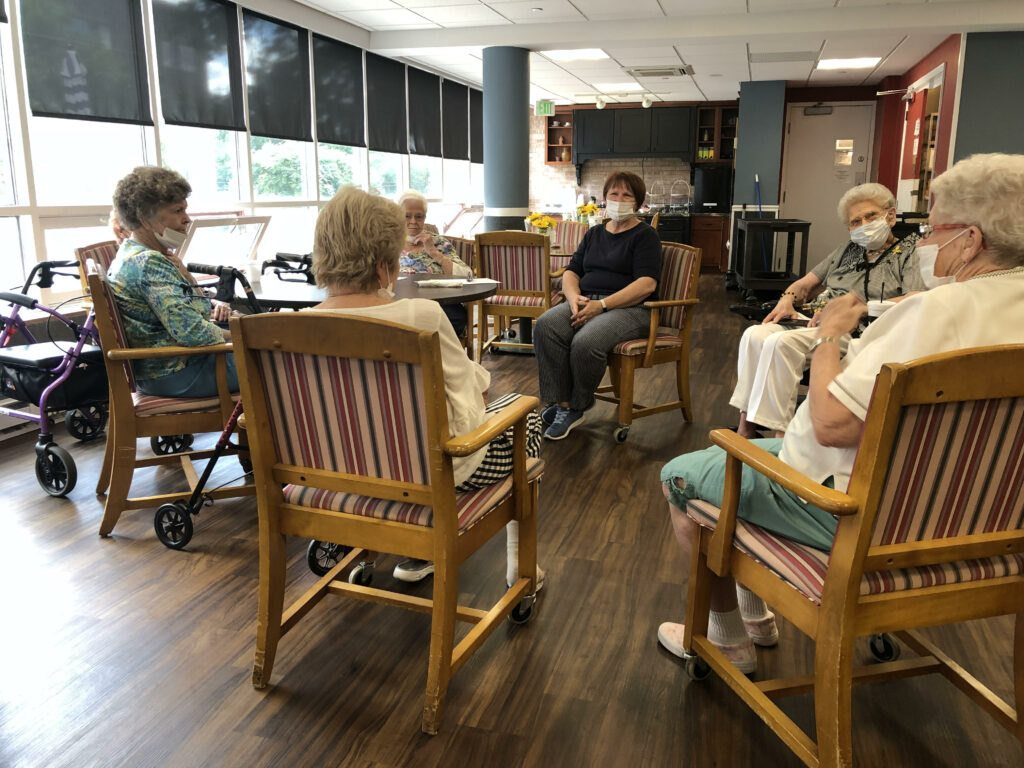 On-site Church and Devotion Services
Asbury Towers has a non- denominational church service every Sunday and holds a Vesper service on Thursday evenings. These services are conducted by our Chaplin, Jim Staggers.
We also have a volunteer who comes in Wednesday Evenings for a Bible Study.
The Life Enrichment Department also host a Daily Devotional, Monday through Friday.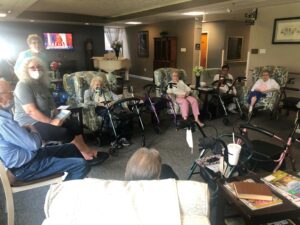 Scheduled transportation & trips
A 14-passenger bus, 8-Passenger Van — both wheelchair accessible — and 1 Mini-van and a car have been purchased for the Community. They are used for various trips and outings.
We offer various local shopping trips throughout the month, as well as Joy Rides around to certain destinations, such as Lunch Outings. The Community assists residents with transportation to Health Care Provider appointments. When time allows between medical appointments our drivers will also take Residents on personal errands such as trips to the bank, accountant office, post office etc.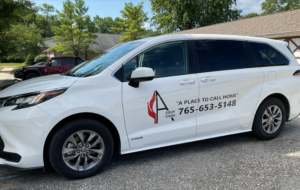 Monthly Residential Activities Calendar
Read the latest editions of our monthly community newsletter The Trumpeter: