The dining services team at Asbury Towers is honored to fulfill their part in the vision of our founding Sisters by creating enjoyable dining experiences for our residents by serving quality, nutritious meals that look appealing and satisfy the taste buds. Staff pride themselves in maintaining a high standard of service and offering alternate menu items to suit the needs and preferences of those they serve.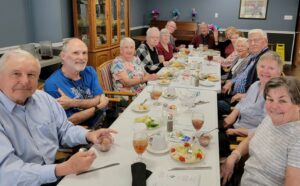 The mission of the Dining Services Department at Asbury Towers Retirement Community is to provide a Christian Community that is a safe and secure environment in which caring and compassion is a way of life and to achieve and maintain such distinction in customer service, food and atmosphere that Asbury Towers Retirement Community gains a first class reputation for hospitality, compassionate service and cuisine.
Dining Services Standards
All meals are designed by a Registered Dietician and the Asbury Towers Chef.
Selective Menu with Bistro Menu (Alternate) selections provided increased resident choice and healthy living options.
Full Service dining room with a caring and trained wait staff to tend to the specific needs of every resident.
Assorted salads offered daily.
Ice Cream Parlor with numerous flavors.
Self-serve beverage stations in each dining room and coffee and snack bar for after hour treats located in The Main Dining Room.
Tables are preset to offer a warm and inviting feel.
In addition to our daily menu, we offer a number of additional items from our Bistro Menu.
All menus are seasonal and fresh and local ingredients are used whenever possible. Our staff is well trained in cooking technique and ServSafe certified to meet all of your dietary needs.